Mrs. Francine J. Hoffman
Nov. 24, 1913--Dec. 22, 1987



Return to Teacher Photo Page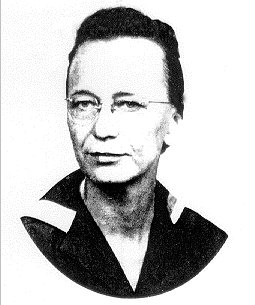 Thanks to the Van Zandt County Genealogical Society for much of the following information on Mrs. Francine Hoffman. It was provided to me by a classmate, Linda Moon.
Mrs. Francine Hoffman was born November 24, 1913 in Wills Point, the daughter of Grady Vance and Lula Louise (Peace) Johnson. She was a 1930 graduate of Wills Point High School Mrs. Francine earned her bachelor's degree summa cum laude in 1934, from the University of Texas, and her master's degree and doctorate in philosophy from East Texas State University, Commerce. She was distinguished for her outstanding service in Kappa Delta Chi, Society for Professional Journalists. Mrs. Hoffman was a member of Russell Memorial United Methodist Church and the Van Zandt County Genealogical Society. Mrs. Hoffman taught journalism and typing as Wills Point High School until 1962 when she accepted a position at Henderson Junior College in 1962. In 1966, Mrs. Hoffman became an associate professor of journalism at Stephen F. Austin State University, Nacogdoches, Texas, where she also served as director of student publications. She retired from SFA in 1984 and returned to her Wills Point native home where she lived with her brother, Chuck Johnson, until her death in 1987.
Many of us remember Mrs. Hoffman as a strict disciplinarian who had little tolerance for foolishness. We also remember her as a lady of utmost grace, charm and dignity. She accompanied us on our Galveston senior trip and probably kept us out of much trouble--something few of us appreciated at the time.
We remember our first day in her typing class. We were shocked to discover the keys had no markings. How were we to learn typing when we didn't know which key was which? But learn, we did. As long as we tried our very best, Mrs. Francine was our best friend. But woe be the poor student who tried to sneak by with a "strike-over" (a definite "no-no.") She caught every one. Mrs. Francine was a stickler for accuracy. Her journalism students quote her as often saying, "Buy a cheap dictionary--and make certain you use it."
Most of us can honestly say that typing was one of the most essential skills we learned. For this, we want to say (a bit late, I'm sorry to say), "THANK YOU MRS. FRANCINE."
You truly cared for us and taught us well. But most of all, you loved us. And we loved you.
The Wills Point High School Class of '58