In Loving Memory
of
Karron Hollister



Return to Front Page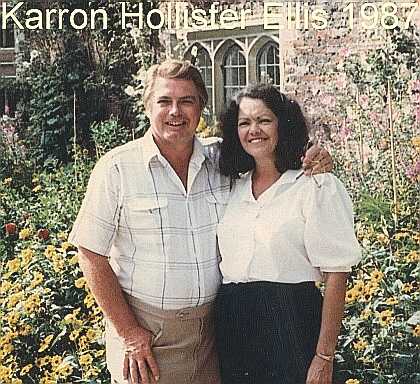 Eric and Karron Ellis
The following was provided on Nov. 24, 1999 by Karron's brother, Charles Hollister
Karron D. Ellis, 55, of Irving died Friday, Aug. 25, 1997 at her home. Mrs. Ellis was born Sept, 21, 1939, in Wills Point. She was co-owner of Mermaid Pools of Texas, Inc.
Survivors include her husband, Eric Ellis of Irving; son, Gregory Ellis of Florida; daughters, Anita Jo Smith of Irving, Karen Dudley of Florida and Dawn Ellis of Florida; Brother, Charles and wife Jeanne Hollister Of Florida; mother-in-law, Rene Read of South Hampton, England; sister-in-law, Sylvia and husband Maurice Cannon of South Hampton, England; brother-in-law, Malcolm and wife Rhona Ellis of Bedfordshire, England: nephews, Neville Cannon Of Scotland and John and Gary Hollister of Florida; and grandchildren, Ashley Jennifer Collard, Justin Chase LaRue, Keith J. Odom, Robyn J. Odom, Trevor J. Ellis, Tara E. Ellis, Johnny E. Lewis, David Brewer and Erica Ellis.
Services were Wednesday, Aug. 30, at Crestview Baptist Church in Irving, with Dr. Joe Moody officiating. Burial was at Restland Memorial Park. Local arrangements were with Brown's Memorial Funeral Home.
Karron moved to Dallas shortly after graduation. She initially worked for Southwest Tobacca as Receptionist/Bookkeeper. For the next 20 years, she worked in a similar position for several Companies.
She married Jerry Davis and had one daughter, Anita Jo. This marriage ended in Divorce. She later married Eric Ellis, a Welshman and émigré from South Hampton, England. Eric's son and three daughters were stepchildren. The two of them were co-owners of Mermaid Pools of Texas.
Two years before her death, Karron was diagnosed as having a brain tumor that was determined to be terminal. Over the last two years, She and Eric traveled extensively with visits to Florida to visit her brother and Eric's children and grandchildren. They also visited Eric's family in England. The last few months were spent traveling the northwestern United States, which Karron had never seen. The trip was curtailed due to Karron getting sick and in much pain. She passed away a couple of months later at her home in Irving.
She was a great lady and a great friend and I miss her very much.
Note on Charles Hollister:
In 1963, Charles married Jeanne Anders from Pocassett, Ma, a small town on Cape Cod.
Charles retired from the Air Force where he worked the last 17 years for The Air Force Technical Applications Center, monitoring nuclear tests and earthquakes. This was in support of the Nuclear Test Ban Treaty.
In 1994, Charles and Jeanne retired and moved to Palm Bay, Fl in 1994, where Charles stays busy helping a local college take care of their computers.
Charles and Jeanne have 2 sons: John, who is 35, single, and works for The Palm Bay Police Dept; Gary, who is 30, married with a new son (six weeks).
Regarding his use of computers, Charles said he first started working with computers back in 1969 "on the old PDP1." "It was called 'the first of the fast computers'. That meant that you only had time for 2 quick cups of coffee before your plot came back. I have had at least one computer at home ever since. Right now I have two and waiting for the third one to come in. I plan to donate the old ones to some kids up the street."