In Loving Memory
of
Robert Olen McManus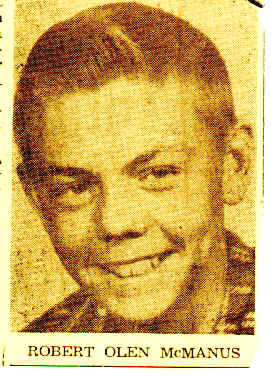 The following is from the October 14, 1955 issue of The Wills Point Chronicle:
Robert McManus, 16, Dies Tuesday Following Brief Illness
Funeral services were held at 3:30 o'clock Wednesday (Oct. 12, 1955) afternoon at the First Baptist Church in Wills Point for Robert Olen McManus, 16, who died at Baker Clinic Tuesday morning at 1 o'clock following a brief illness.
Young Robert, son of Homer McManus and Mrs. Fannie Mae McManus was stricken with diphtheria over the week-end. He was admitted to Baker Clinic Sunday night where his condition grew worse. Emergency surgery was performed early Tuesday evening and his death followed in a few hours.
Robert was a member of the junior class of Wills Point High School. He also played center on the high school football team and played in the Friday night game against Waxahachie.
Rev. Jimmy Allen and Rev. A. T. Cox conducted the funeral services and interment was in White Rose cemetery under the direction of Eubank & Co. Funeral home.
Active pallbearers were Bobby King, Eugene Wilcoxson, Buzzy Craft, Frank McFarland, Billy Mince, Ken Autry Davis and Richard Huff.
Honorary pallbearers were Billy Hullem, James Travis, Raymond Scott, Gordon Sanders, Benny Mitchell, Ray Rogers, Douglas Sudduth, Ray Rogers, Douglas Sudduth, Ray Page, Pat Neill, Gordon Allen, Bobby Mayfield, David Cockerham, Raymond Hargrove, Jerry Ramsey, Roy Rogers, Billy Rusk, Billy Ashworth, James Hudson, Bobby Smith, John Neill, Conn Berry, Tommy Griffin, Chester Christie, Larry Ashworth, Kenneth Hoye Foster and Truman Welch.
Robert was born June 12, 1939 in a Terrell hospital at the time his family resided north of Wills Point. His entire life was spent in this vicinity.
He is survived by his parents, two half-sisters, Mrs. Betty Garman and Miss Hazel McManus of North Carolina, his grandparents, Mr. and Mrs. J. J. Chambless of Fort Worth and W. A. McManus of Midland, North Carolina.
Children of the Wills Point school were dismissed at 2:00 p. m. Wednesday in honor of their schoolmate to allow them to attend his final rites. Several members of the Terrell football squad and their coach, Leon Vineyard, attended the services and lovely flowers from the teams at Canton, Edgewood and Terrell spoke a silent tribute of love and respect to a gallant member of Wills Point's football team.